Secrets to Activities that Make you Money in your Direct Sales Business.
Step Into Action 3-Part Webinar Series!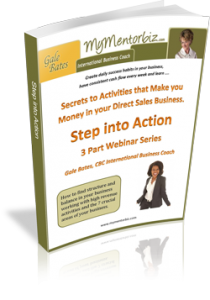 Are you open to creating NEW HABITS to energize your business?
Learn the secrets to structuring your time and efforts around the high revenue activities in a direct sales business. Working in the seven crucial areas and committing to the number of hours you want to work, you'll discover consistent actions and habits that make money in your business. 
I hear it all the time from clients and consultants who want more TIME for their business.  Some are looking for a different way to increase their income, but finding it's not happening.  Others are making less income than they want, because they're not increasing their customer base.  If you're feeling the crunch of time, fitting it all in, then you've landed in the right place.  You're ready to STEP INTO ACTION!
From: Gale Bates, International Business Coach
Hi, my name is Gale Bates and I'm excited to bring you the secrets on how I structured my time in building a million dollar team and a six-figure income direct sales business.
Today, I teach, speak, coach and write about the basics of building a profitable direct sales business. I created this 3-part webinar series on STEP INTO ACTION because I saw so many direct sellers who were overwhelmed with not enough time, or floundering because they weren't focusing on the high revenue activities of each of the seven crucial areas in a direct sales business.
I've put each aspect of what worked for me, and my coaching clients, very specifically, into an easily downloadable 3-part webinar series called:
 "Secrets to Activities that make you money in your Direct Sales Business to "Step into Action!"
How to find structure and balance in your business, working the high revenue activities and 7 crucial areas of your business. 
Here's how it works:
You download each Webinar/Teleseminar (each is an MP3) and listen to webinar #1, #2 and #3 using each webinar's study guide.
You download the three STUDY GUIDES for each webinar (each is a PDF), and learn by doing the exercises and completing each activity.
You download the HANDOUT – (It's a weekly time-sheet plan), and after listening to the whole three webinars, you STEP INTO ACTION and figure the number of hours you want to work.
You work the system for ONE week, then return the handout to Gale and sign up for ONE 30-Minute complimentary Laser Coaching Session. I'll spend 30 minutes helping you create the habits you want to make money in your business.
Here are the details:
Session 1 – Step into Action habits creating success ACTIVITIES. You learn exercises on time management focusing on high paying revenue activities that bring you the income you want. Time is one of the big hurdles in business success.
Session 2 – Step into Action habits creating INCOME you want. Now you have your time schedule laid out, you'll learn the finer points of marketing your direct sales business in order to have a full calendar of bookings. This puts you in the driver's seat to find the RIGHT people to join your team.
Session 3 – Step into Action habits creating a fool-proof FOLLOW UP system. You'll learn a proven system in closing your potential recruiting prospects, and learn step by step methods in using social media and internet options to jump into action.
After listening to the three webinars, you'll complete your Weekly Time-sheet Plan and email it to Gale for a complimentary 30-Minute Laser Coaching Session.
What will STEP INTO ACTION training & coaching series do for you?
Grow MORE in your Business
Add MORE ideal clients
Help you have MORE $500 and $1000 PLUS parties
Recruit MORE people who want to build a business?
Have MORE team members stepping into leadership?
Once you apply these steps, even if you apply only one or two of them, you will start seeing results.  It's time to do something different, GET READY TO  
STEP INTO ACTION!
NOW!
Instead of charging the cost of my regular coaching program, I'm making this downloadable (PDF) series available to my readers at the introductory price of
$67.00
(yes, can you believe it?)
This may be the price of your next pair of jeans
INVEST IN YOU, now!
The STEP INTO ACTION program is ONLY for direct sales entrepreneurs who have decided it's HIGH TIME they increase their INCOME.
The STEP INTO ACTION program is ONLY for direct sales entrepreneurs who want to IMPLEMENT and have systems and strategies in place for the upcoming hottest selling months of the year
Are you looking for MORE in your business?
Then STEP INTO ACTION now!
 Here's what those who have experienced this webinar say:
When I took this 3-part series, I set out to accomplish time management and organizational skills in my business. What I found was each one of the seven crucial areas helped me streamline my business and I found exactly where to spend time and focus I need for each of the seven crucial areas. No matter what level of experience we have it's important to regularly take inventory of your skills, resources and workshops like this one to enhance your toolbox and continually be the best you can be. 
Phyllis Benstein Independent Advanced Founding Style Director, Gigi Hill. gigihillbags.com/purseonalitybyphyllis
I wanted to get some focus on how to work my business more efficiently when I took this STEP INTO ACTION seminar.  I found I am now focused on getting two bookings at every party. I created the catalogue campaign that made me want to get on the phone. I now have the time scheduled to work on my admin and paperwork. I have learned I need to set aside at least two hours each week for recruiting appointments.  I'm networking more and creating new circles of business and the weekly newsletter I implemented has been a big hit with my team.  I now know what if feels like to have consistency in your business and feel less scattered.  I learned so much from this workshop, I decided to hire Gale to be my personal Coach.Nikki Afetian, Unit Leader, Lisa Sophia Jewelryliasophia.com/nikkiafetian
Love and Success to you,

Gale Bates
Your "Make the Leap" Mentor
PS.  This offer is only guaranteed for a limited time, so be sure to lock in your special pricing today.  Reserve your copy right now.
One Time payment of $67
Return Policy:  There are no returns allowed on downloadable products.