2016 CALENDAR GIRLS Team Booking System Workbook & Webinars 
Is a proven system for Leaders to help team members book consistently and grow a profitable direct sales business
Are you a LEADER who is ready to leap into leadership for the first time? 
Are you a LEADER who is experienced and ready for a big shift to leap to the top of your company? 
Are you a LEADER who is at the top of your game and focused on promoting strong downline leaders? 
All three of these leaders have ONE common trait.  They are relentless learners who seek knowledge and want to learn new skills, habits and ways to grow their business.  
The CALENDAR GIRLS Team Booking System will change the way you lead your team! 
It's a system that helps team members be accountable and get bookings.
It's a system that helps team members make money in their business.
It's a system that helps team members be role models for others.
It's a system that will help you become the leader others will want to follow!
Are you one of these leaders who is looking for a system to grow your team in your direct sales business?
Then,
The CALENDAR GIRLS Team booking system is FOR YOU! It is the ULTIMATE system to help you increase your team bookings, your team sales volume and your team recruiting.  And in doing so, you'll increase your income.
The CALENDAR GIRLS WORKBOOK is filled with exercises, training tips, templates and tools to help your team increase sales, bookings and recruiting. 
The CALENDAR GIRLS WEBINARS take you through the system page by page with specific strategies on motivating your team.
It will change the way you lead your team!
US & Canada Orders
$67.00

International Orders
$67.00

One of the biggest problems most Leaders have is
Not knowing who is holding parties on the team.
Not knowing when to communicate with team.
Not understanding if team members need support.
Not knowing "how" to support them.
Not knowing if they'll qualify in title
Scrambling at month end to place more orders
Not having a system to pass on to future leaders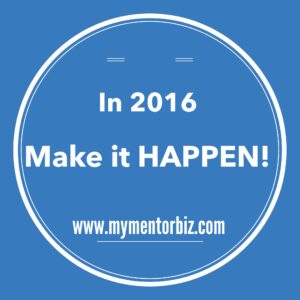 It's 2016 MAKE IT HAPPEN!   Learn the skills to increase your team bookings, your team volume, your team recruiting and lead your team with a system for success
From:  Gale Bates, Your "Make the Leap" Mentor   
We are celebrating another year in 2016  with leaders around the world who help others be successful working with the CALENDAR GIRLS Team Booking System. I am proud to know these leaders who are focused and committed to have a positive impact on the planet in growing successful million dollar teams.
I know the stress some of you have in leading a team that is not growing as fast as you want.  That inconsistency of having a great month, and then the next month everything falls through the cracks.
I started out that way myself, and I quickly realized I didn't have any type of communication in place.  I wanted to support my team members to make money in their business, but didn't have any type of structure in place.  I knew how important is was for my team members to earn they money they wanted every month.  Money that would make a difference for them, like paying for bills, groceries and savings.
That's why I developed the CALENDAR GIRLS Team Booking System.  I figured a way for every team member to contribute by establishing a TEAM CALENDAR that everyone contributed as a team player.  And it was this system that took my team to the million-dollar circle.
It was all about creating consistency on the team.  Consistency in hitting goals, and supporting them with a solid communication, and support plan.  When I developed the CALENDAR GIRLS Team booking system, my team bookings increased, my monthly team volume hit it highest levels and we had a recruiting explosion!  This resulted in new leaders emerging at a very fast rate.
The rest is history.  My team made it to the number one slot in the nation, and I have now shared this system with hundreds of leaders around the world in my training and coaching programs.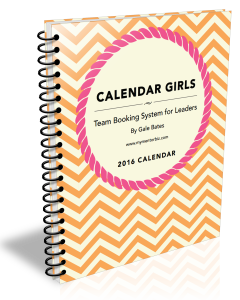 The 2016 CALENDAR GIRLS Team Booking system WORKBOOK AND WEBINARS are here!

There are 10 sections in the workbook with 138 pages.
THE WORKBOOK  includes how to Launch the system and LEADERSHIP training on
Time management

Positive Team Communication

Setting Clear Team Goals

Reaching High TEAM sales success
Getting consistent TEAM bookings
Teaching a TEAM recruiting culture
Promoting new TEAM leaders
TEAM building training

Leading with a strong social media presence
THERE ARE TWO WEBINARS that will take you through the workbook page by page.  You'll learn how to immediately increase your team sales and be guided towards developing a strong communication strategy that builds team success. 
We have international CALENDAR GIRLS and LEADERS all over the world building consistency and leaping forward in their direct sales business, earning the income they want.  Here is what leaders are saying..
Gale's "Calendar Girls" system has helped me grow my confidence in myself as well as a leader. My team is now fully engaged. As for my personal business, I reached a career milestone of $100,000 in personal sales.  I have seen my team double in size and my own personal recruiting hit a new record as well. My biggest 'AHA' is in order to have those record breaking months, it all boils down to the number of parties you do.  Pretty simple, but a huge "slap to the forehead – DUH!" moment.  As for my team, my biggest takeaway has been to continually "shine the light" on them and their successes.  When I started doing that (as well as leading by example) my team came alive!!
Jeni Cassidy, Premier Director, Lemongrass Spa
Goals are only dreams until you take the steps to achieve them. You must create your goals often, make them attainable and stretch, then put systems in place to achieve those goals, and have constant accountability.  Having an accountability partner that has the same career aspirations I have has been so beneficial in helping me reach my goals. 
There are times when you can feel discouraged, but that accountability partner is right there to encourage you and refocus you on those goals.  Gale's systems like the CALENDAR GIRLS Team booming system, her coaching and encouragement have pushed me far outside my comfort zone, giving me the ability to grow as a wife, mother, and business professional.  This program has been such a blessing from the Lord.  Gale's wisdom and instruction have been instrumental in my success.  
Crystal Baddorf, Director, LemongrassSpa
The Calendar Girls Team Leaders Booking System is a brilliant resource to efficiently and effectively communicate, coach and support team members. I personally use and strongly recommend that all my leaders implement this simple system as well as participate in the monthly conference call.We have over 45 Team Leaders who are implementing this outstanding system. I highly recommend it.
 Ann Craig, Group Vice President,  JOCKEY Person to Person
Make it happen in 2016 and build your DREAM TEAM in 2016!
WORKBOOK – printed copy of 2016 CALENDAR GIRLS workbook
WEBINARS – Special Link to training WEBINARS launching the system.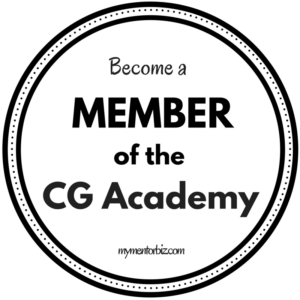 OPPORTUNTY –  to join CG Academy Membership Program which includes
Monthly W.I.N. Worksheet

Monthly Leadership training webinar

Private Facebook Group Membership

Podcasts/Tutorials

Special handouts and templates
Check it out here at http://www.mymentorbiz.com/cg-academy-2/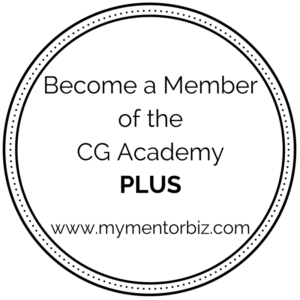 OPPORTUNIY – to Join the CG Academy Membership PLUS Program which includes
All of the above

PLUS

Monthly Leadership Training Webinars
Check it out here at http://www.mymentorbiz.com/cgacademyplus/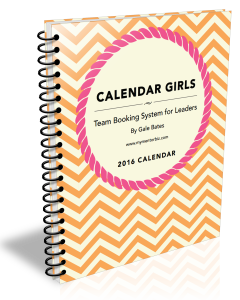 Get the Workbook and Webinars
Learn how to launch the system and increase your team bookings IMMEDIATELY!
US & Canada Orders
$67.00

International Orders
$67.00

Follow the system and make an impact on your business!  Become the leader others will follow and make a difference for others working with the CALENDAR GIRLS Team Booking system.
Love & Success to you,

Gale Bates, Your "Make the Leap" Mentor