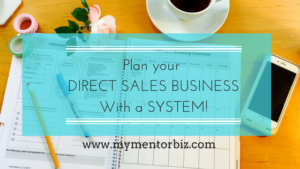 The key with systems is to not to re-invent the wheel each time you do something in your business. Instead, when something works, you repeat it over and over. Then it becomes a system and if the system is good, it will create great results over and over again.
That's how I created the Direct Sales Planner "system." It is designed for you to create habits that help you run a smooth and well-oiled machine in your direct sales business.
I believe in having simple systems, and that's why I'm sharing the 4-step process to planning a successful week in your business. When you PLAN to have a successful week every month, soon you'll find you're not only getting things done, but you're wending your way to achieving those big goals you set for yourself at the beginning of the year.
Here's what we've covered so far in planning your week with the Direct Sales planner system.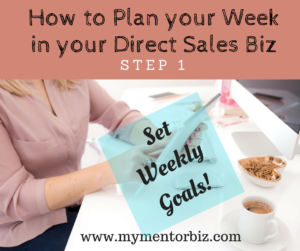 We began with step 1 setting weekly goals by creating a one hour Sunday night ritual. It's important to write your weekly goals in ONE place in the weekly planner page in the Direct Sales Planner system. When you review these goals every day, it keeps you focused on achieving and accomplishing your goals each week!
Next in Step 2, I shared a time blocking exercise that helps you get clear with working in 3 hour blocks of time to get things done! This time blocking exercise helps you focus on what is truly important because you now know how to juggle family, life and your business.
In Step 3, I shared with you the POWER of writing down THREE priorities on each day of the week. We talked about your long to-do list and how to prioritize what's important. Then writing down those three priorities in the space which is HIGHLIGHTED In your planner so you know exactly what to focus on each morning when you connect with your planner at your desk.
STEP 4 is simple but powerful
Planning your weekly dinner menu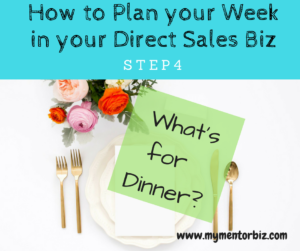 You may think planning your dinner menu has nothing to do with running your Direct Sales business, but it's one of those habits that I believe frees up your mind so you can truly "focus" on your business each day. In fact, this week I met with a leader and was showing her how to use her planner going over these four steps and when I showed her step 4, planning the weekly dinner menu's, her eyes lit up and she said, "This is so helpful. I get it! "
Figuring out "What's for dinner" every day takes a big chunk of your time, but if you make it part of your weekly plan each week, (in your Sunday night ritual planning) you'll find you get more done in your day every day. This is because you are not only organized with your shopping lists, but your mind is clear about feeding your family, and when a woman knows her family is taken care of, she is happy and confident in running her home based business.
And of course, I have a lovely FREE printable download for you to help you plan your weekly meals.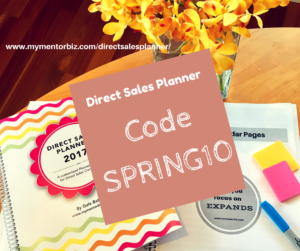 The DIRECT SALES PLANNER is available at a special DISCOUNT for the month of April.
Click this link and apply the code SPRING10!
I can't wait to invite you into our special secret Facebook group for those who use this planner system.
In the meantime if you're ready to truly grow your business with systems like this one that I teach my coaching clients, then email me at mymentorbiz.com for a complimentary 30 minute strategy session.
Once you get into the habit of using this simple 4-step planning process beginning with a Sunday night ritual, you'll find it is a huge time efficient habit that will help you stay out of overwhelm and feel in control of your business and your life.
Comment below how you will move forward in planning your business each week.